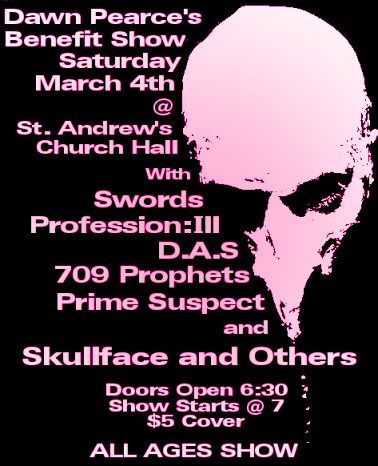 Dawn Pearce's mother committed suicide a little over a month ago, and she now has to come up with $30 000 upfront or she's going to lose her house. Her dad recently delcared bankruptcy so they're not even going to be able to get another house. This show is to raise money to try to help her out. $30 000 is an awful lot of money, but every little bit adds up. We've gotta try. There's another show this same day going on at the Curling Club (upstairs), there's going to be a box set up there to help raise money for her as well. That show starts at 4:00pm Saturday. Both are all ages.
Please help her out! Even if you don't want to go to the show(s) you could drop by and leave some money, it'd be great. She's only 14 years old, she shouldn't have to go through something like this.
Spread the word, too. Here's a printable poster for those of you who might want to print some off to post around:
http://img.photobucket.com/albums/v306/EmeraldCheshire/printableposter.jpg
Thanks a lot!
(x-posted to newfoundland)